Meet Amanda C Miller From Kid Cosmic On NETFLIX
Picture Studios interviewed Amanda at our 'dank little murder basement'.
There are many things that can be said about Amanda C Miller but "shy" is definitely not one of them. From the moment that Amanda arrived at the studio, she was a bundle of energy that engaged and connected with everyone in the room. Born in Birkenfeld, Germany and raised in a multi-racial military family (MRMF for short), her ability to adapt to her surroundings was probably to be expected.
What we did not expect, however, is to have our lives casually threatened at the same time that we laughed, learned and came to love Amanda Celine Miller. In the paragraphs that follow, you'll get a small taste of what we got to experience firsthand. She is an exceptionally gifted performer and a delightful spirit so it seemed only natural that we would use a collage of photos to showcase her many sides. Clips from our interview with Amanda will be posted to our YouTube channel in the coming days and weeks, but for now…. you'll have to settle for this Q&A along with some behind the scenes (BTS) footage at the studio.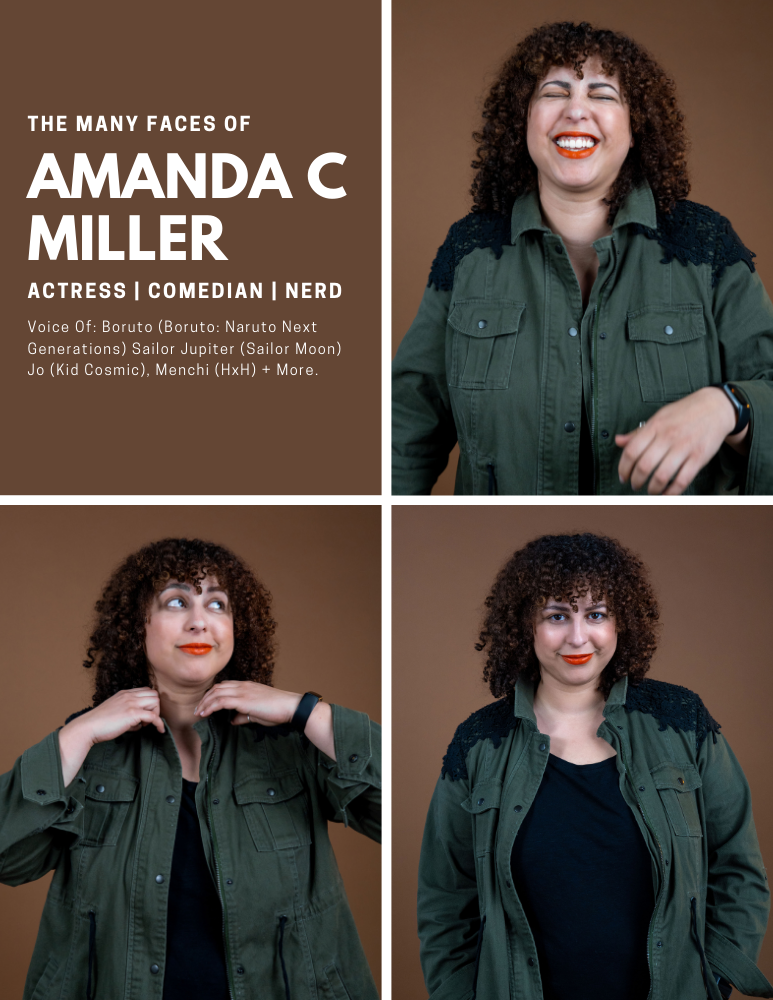 Kid Cosmic is a show by Craig McKracken [who also created Powerpuff Girls]. It's one of the few shows right now that still captures that 90's vibe because it is enjoyable for kids but just as enjoyable for adults and teenagers.

Amanda C Miller on what makes Kid Cosmic unique. Follow her on IMDB.com By Clicking Here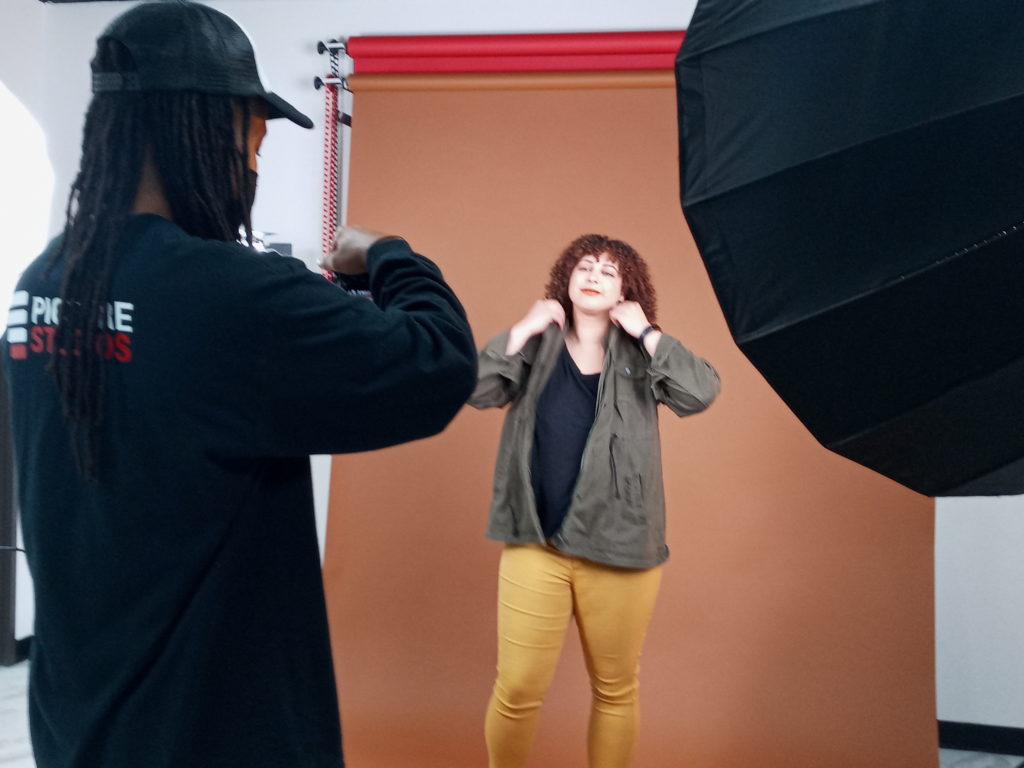 Behind The Scenes – Amanda poses in front of the camera for a brief mini photo session. Our Lifestyle Editor is a lifelong anime fan, and her Sailor Jupiter character was a childhood inspiration for the crew.
Shot On Location at Picture Studios in Greensboro
During our forty-minute interview with Amanda C Miller, we talked about life, careers and tidbits like:
Who is Amanda C Miller and why is she on Wikipedia?
Amanda: Oof, I mean the first one is like an existential question, I don't even know! I'm a voice actor, I'm an actor in general, a comedian, writer and probably wanted in a couple states. That might be why I'm on Wikipedia! Haha!
What do you think of the studio?
Amanda: What do I think of the studio? I mean it's cool so far. It's nice and clean and I didn't know what to expect. You're like, 'Hey, come to our studio!' and I'm like, 'What? Is this gonna be some dank little murder basement?' But IT IS NOT a dank little murder basement, it's nice!
Have you been to any good restaurants down here?
Amanda: Not yet, but I saw Biscuitville on the way and I'm intrigued. I'm sure that's not a bougie answer, but it sounds delicious!
Kid Cosmic is on NETFLIX right now. Tell us about your role.
Amanda: Kid Cosmic is a show by Craig McKracken [who also created The Powerpuff Girls]. It's one of the few shows right now that still captures that 90's vibe because it is very enjoyable for kids but just as enjoyable for adults and teenagers. It's kind of in that Marvel vein because there are 5 cosmic rings of power. It's different than Marvel in the sense that we are this ragtag team of people in the desert of New Mexico. My character, Jo, is a teenage girl who works at her mom's diner. Kid [the main character] is this quirky kid that has antennas on his little headset and rides around on his bike with a cape. Then there's Rosa who's the toddler and then there's Papa G. There's this whole fun cast and it has that same Parks and Rec vibe where they build this family dynamic.
As they build the family dynamic, my character becomes the impromptu team leader. It's a really cool journey! It shows Jo's growth from not knowing her way. She had just moved from the city and she's kind of missing home in the beginning. She's not a military brat but there's a little bit of that kind of vibe like, 'Ugh this place sucks, I miss the place I was before.' She learns to find home where she is because home is the people. She also learns what it means to be a good leader by stepping up.
What other projects are you working on right now?
Amanda: That's always the boring part because we have NDA's so we can't really talk about anything that hasn't been announced or released. I've got some video games I'm working on but that's all I can say. With video games, they'll give us a title but sometimes it's just a fake title. Instead, they use a code name because they are very secretive with video games. Games are actually bigger than movies! They make billions more than Hollywood does because it's a movie that is also interactive [and more fun]. For example, we'll have a name like 'Project Red Chair', and it'll turn out to be HALO or something, you know? So yeah, I'm working on a couple of games that I can't talk about, and we are still trucking away with Boruto. We've recorded like 200 something episodes so far.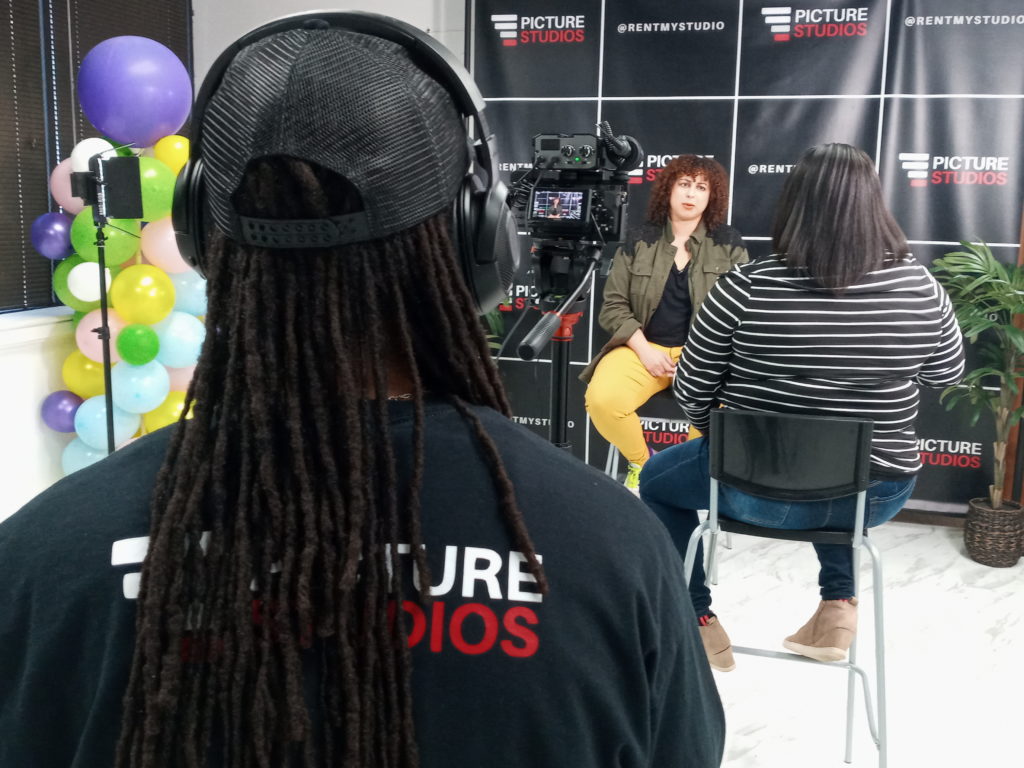 How did your career begin?
Amanda: I was a theater major in college. Tony Oliver [a voice actor that did voice acting workshops at public venues all over the country] came to the University of Maryland while I was there. I think it was for Otakon or something and he basically taught a workshop on how to do Anime, dubbing, video games, etc. I took it and thought it was really fun. He pulled me aside and said, 'Hey, you got future in this business kid.' It felt VERY very Hollywood! It also helped me decide to move to Los Angeles (L.A). after graduating. I had planned to move to New York to do theater and I'm so glad I didn't! I got a job in L.A. as an intern at a voiceover studio. I was just getting them coffee and doing all the boring stuff, but they knew I was an actor, and they would throw me a bone and let me come in and do background voices. It would be voices in the crowd or just little one-liners here and there like "Would you like coffee with that ma'am?" but I thought, "Oh my gosh, I've made it." Over time they started trusting me more and they let me audition for actual projects. I started booking and I just built from there over the course of like 10 years.
What did you do when you landed your first big role?
Amanda: Well…there's big to ME and then there is ACTUALLY big. Fire Emblem was my first big role, but I didn't think it was big at the time. It was the very first video game that I did, and it was cool because the character I played [Sully] was basically me. Sully is very similar to me because she's literally flirting with guys by saying stuff like, "I'm gonna punch you in the face." That's so like me! I relate to that girl! At the time, I didn't realize that the Fire Emblem game would go on to become very, very popular.
Of course, Sailor Jupiter on Sailor Moon, has been my biggest role so far. I remember being so insecure and nervous for months. Jupiter was my favorite character growing up, so I would tell myself, "Don't mess this up, because you can't blame anybody if you're the one that messes her up." Then I found out that they had casted in a really cool way, and it made me feel more confident that I was the right person for the job. I read an interview that said they basically picked their top 5 auditions for each character, took the names off of them, numbered them and then sent them to Japan. Then the Creator of the show [in Japan] got to pick from the list for her final cast. When I learned that, it felt like it was meant to be, so I stopped questioning it. I was like, 'Alright I'm here for a reason. Stop doubting it and let's go get to work.'
Did you keep a day job or a side hustle?
Amanda: Yeah, I don't understand why actresses would ever leave their financial futures up to acting. Sometimes you book stuff, and you make money, and you know you can coast for a couple months. But sometimes you don't work for six months. I don't really know why actors give up their jobs. I mean I understand that having a 9-to-5 is really hard as an actor because you have to be available at the last minute. But yeah…I still have day jobs. I still have side hustles. I have a champagne taste on a beer budget or whatever. I have a mortgage to pay for and I'm not leaving that to acting. Acting is about talent but it's also a numbers game. There are so many more actors than there are roles for people. Honestly, they might not even hear your auditions half the time! They might get 1,000 auditions and only listen to the first 10 if they find what they want.
I still do adaptation work which is basically writing the English scripts for anime or live action dubs. For Netflix, they basically give you the term and English translation and it's your job to match the mouth so that it makes sense to an English audience. It's kind of a fun, weird puzzle. I also teach a bit for voice over and I'm always trying stuff. I like day trading and things like that because I diversified. During the pandemic, I still had other stuff to fall back on. That's my advice for people at home…do not put all your eggs in one basket. No matter how much you think it's the one thing that you ever wanted to do. That's great…. keep pursuing it but know that you're going to have ups and downs. All the boring stuff in between is what keeps you stable and it actually helps with your acting because then you're not as desperate. It's an energy thing. They can sense when you are thinking, 'Please, I need this to feed my family!' Sometimes they think 'Whoa I don't want that energy in my show'. Once I stopped caring about things, people started to come to me and say, 'We don't even need you to audition.' There have been some projects where they just wanted me in it. I wasn't pounding down their door like, "Please feed my kids!"
What advice would you give to your younger self?
Amanda: A lot, geez. What advice would I give to my younger self? I mean, one of the things is just because somebody else says something, doesn't mean it's true. Having a strong core sense of self and not relying on what other people think is huge! You're so much freer. I would also say don't chase people or things. Let them show you who they are or what they are. So… if it's a friendship or a relationship, know what you have to offer. To little Amanda I would say if that if a guy says, 'Let's hang out sometime' and they kind of seem haphazard, don't follow up. Let THEM follow up, you know? If they are interested in you as a friend or romantically, let them come to you as well. It'll be a give and take. If you're the only one using energy in the relationship, then just let it be.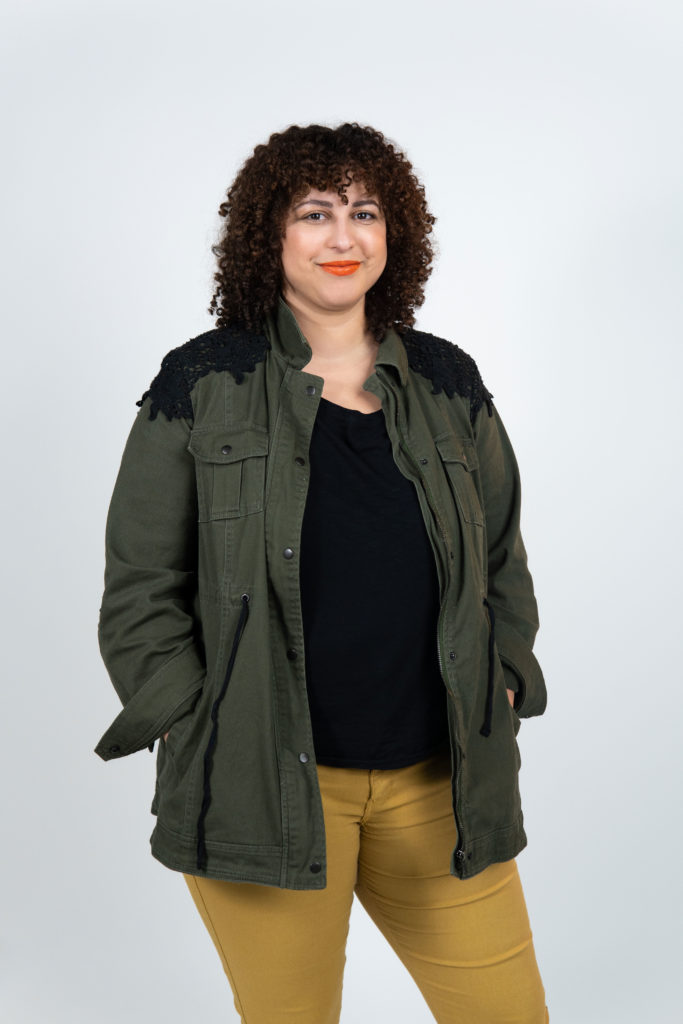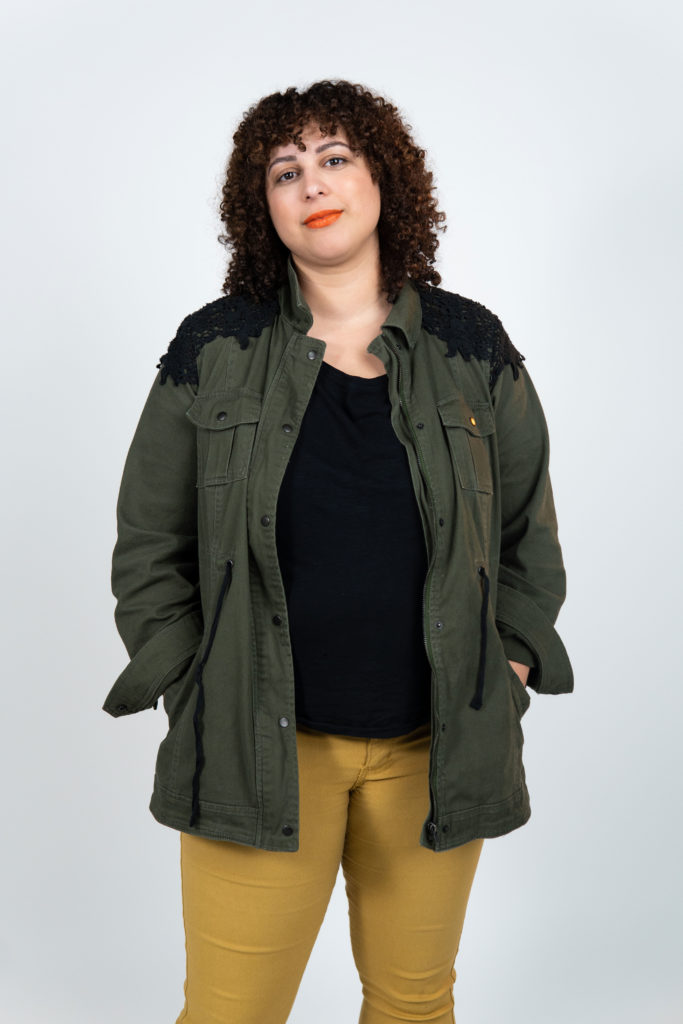 What's your favorite podcast or website?
Amanda: I really love a podcast called Old Gods of Appalachia. It's really good. It takes place in back country Kentucky and weaves stories together over generations with characters that come back into play. I really like my horror stuff. I love the storytelling on Old Gods of Appalachia and podcasts like 'Welcome to Night Vale' that have spooky vibes. Magical realism is my jam. I love dark shows. I don't know why!
Where should people follow you on social media?
Amanda: Don't. I don't ever post, I'm boring. Just kidding. I am AmandaCMillerVO on Instagram and on TikTok. I need to change my Twitter name too, but if I do it there, I lose my verification status, so I've been like, 'ughh.' On Twitter I'm Amanda_Celine. It's very ugly because AmandaCMiller was taken and AmandaCelineMiller is too long!
It's like one letter too long. There's another Amanda C Miller but only for now! It's like in that movie 'Highlander' where the guy says, 'There can only be one!' That handle's gonna open up really quick! That would be a crazy story later. People would say, 'Yeah she's the one, she's the Amanda C Miller Killer.' She goes around killing everybody with a name like hers so she can get their hashtags, or their handles. The Amanda C Miller Killer!!!
Ha Ha! Oh no! Now I have to take care of you guys too! I mean… I like you, but now I have to take you out! Then I have to delete this footage so that I know that no one will ever see it. Sorry!
Any last words?
Amanda: That's the question I should be asking YOU now. You probably thought the last words should be more advice and not me the threatening to kill you and your whole staff. But like I told someone the other day, if I was a serial killer, people would never assume anything. And then if I do it in broad daylight, people would be like 'She's so funny' and joke about it. Like I said, I like dark things. I like my podcasts dark. I like my humor dark.
I know exactly when I'm gonna strike. Probably when you drop me off because you are my ride. That's my plan.
You're like my Uber but I have been casing this joint all along. I'm a contractor. I'm a HITMAN!!! You know? Like I said, I like side hustles!