Go INSIDE The Mind Of Writer And Comedian Cam Rivers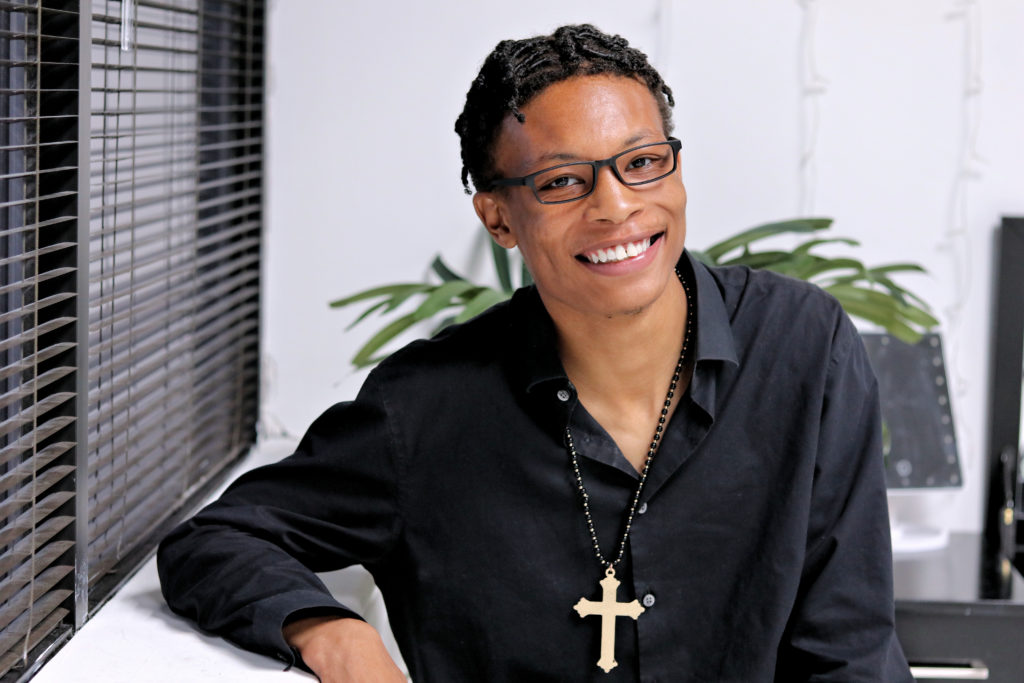 Being a standup comedian is HARD. Unlike rappers and singers (who are always 'ONE SONG' away), the path toward popularity usually takes years or even decades for most comedians. Rappers can BLOW UP for choosing the right beat and singers can GET DISCOVERED if they find the right melody, but stand up comedians have to earn their stripes on the stage. Sure, there are plenty of internet famous comedians that GO VIRAL for a joke here and there but how many can actually tour (and eat) off of it? It is for this reason alone that we're always excited about featuring up and coming comedians at INSIDE Monthly. Today, we have the opportunity to introduce you to Cameron 'Cam' Rivers, who resides in Greensboro, NC by way of Charlotte (Westside. Beatties Ford Road Baby!). While residents of Greensboro will recognize Cam as a regular staple at clubs like The Artist Bloc, The Idiot Box and The O (on West Market Street), Rivers has also had the opportunity to appear on showcases like First Impressions presented by Chocolate Sundaes (www.chocolatesundaes.com) and the Laugh Factory of Hollywood. One part slapstick and one part observational, Cameron Rivers has a unique brand of comedy that always starts with a pen. He was a bit out of his element during his photoshoot at Picture Studios but that's only because Cam Rivers LIVES on stage.
Remember the name because he is TRULY one of a kind.
What Do You Do And What's Your Claim To Fame?
I do everything. I got my hand in every pot like a greedy kid. I'm born to do comedy. That's my gift. But I also have a gift of seeing of other people's gift and putting them in position. I don't even care about fame. It's not about me. It's about we as in everybody around me. They looked out for me when I was broke. Shoot, I'm still broke. Dead broke. Well maybe not "dead" broke. I'm rich in mind. The capital is coming. I just want to lead and free black people from oppression and free our minds. At the end of the day, that's the whole vision.
I'm a stand-up comedian and writer at the end of the day. I don't care about fame. It's "we" not "me". I would rather write for other people to be funny with skits and stuff. Don't get me wrong. I love doing stand-up but my claim to fame is going to be bringing back black comedy. Like movies. Sitcoms. Sketch shows. Everything. Def Comedy Jam. Chappelle's Show. In Living Color. I'm bringing everything back.
Why Don't You Have A Page On Wikipedia?
Because I'm underrated. Everybody always slept on me. Even as a kid. I was the most bullied kid. I'm like Chris Rock when he grew up (and was bullied by white classmates) but black people bullied me. White people bully physically. Black people bully emotionally. I don't know which one hurts more. I would rather get my face punched than get called ugly again. I don't know. Naw. They both hurt.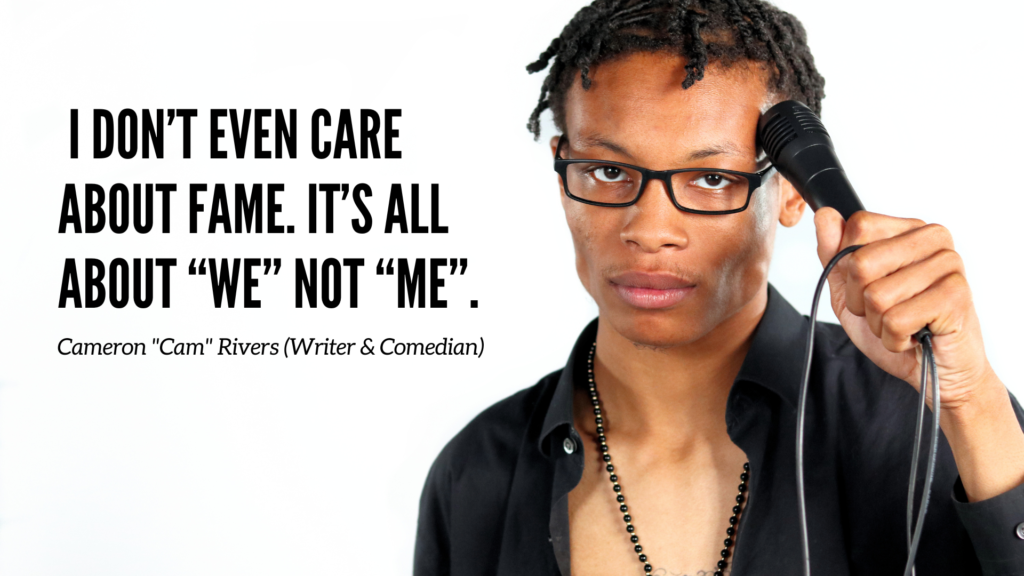 I haven't made it yet though. I ain't nobody. I'm just a kid from Charlotte. Born from a middle class to poor family. It's gonna come though. I need to worry about who's going to edit my Wikipedia page. I should probably write my own Wikipedia bio ahead of time. You know how they do comedians…LOL. They're already talking about me being either on crack or crazy. I'm not even famous yet and people are already calling me a crackhead. That's how they did Chapelle and Martin! I'm not even there yet. So I already know what they're gonna hit me with. I'm already prepared. Two steps ahead….Ha Ha.
What's Your Website And Social Media?
The website is coming soon. I had one before but I didn't pay the bill. It was only $30. But it's okay. We Not Me Productions. I'm bringing it back.

Follow Cameron Rivers on Instagram: @camchaporiverscomedy.
What's The Worst Thing You Got In Trouble For As A Child?
Are we gonna keep it real? Okay. Oh lord. My dad is gonna remember this and he was so mad. But I'll be honest because I always tell the truth. I got kicked out of school and had to go to West Charlotte for getting into trouble. My so-called friend posted some of the stuff that I did and it went viral on Twitter. The next day I felt like Michael Jackson because everybody wanted to ask me questions about it. Going to West Charlotte is what made me a tougher man though. The second day there, I got my phone stolen by a slow person. I was like "yeah…I'm gonna have to get tougher". I'm like Paul Mooney. I'm gonna tell you the truth now….LOL.
How Is North Carolina Comedy Different Than Other States?
It's really so great. Especially Greensboro. People don't realize how much comedy gold is here. I could name so many names when it comes to places like the Idiot Box. North Carolina comedy is so slept on. There are people like Chico Bean and Zack Galafonikis (from The Hangover) that came out of North Carolina. That showed me that it's possible. It doesn't matter where you're at. If you're living. You can make it.
What's The Best Advice You Received About Being A Comic?
The best advice I received came from JD Etheridge. He told me "just be personal". That unlocked everything. I used to try really topical stuff. Then I realized that I have lived the funniest life ever. Everyday is like a sitcom so why I don't just talk about that? Shout out to JD. You told me I was gonna be great, and that meant a lot bro!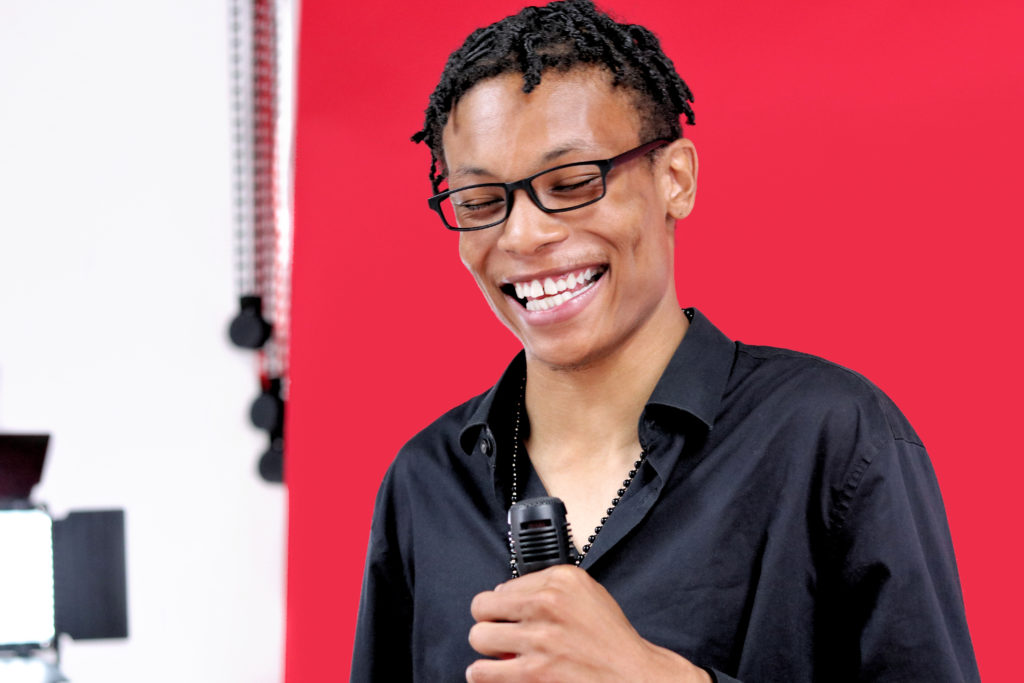 How Has The Industry Changed Since You Got Started?
I feel like I'm changing it by bringing everybody together. Everybody was separate. I'm trying to bring the black comics and white comics together. If we all do it together, we'll go BOOM and then everybody can eat!

Cameron 'Cam' Rivers is the Founder of We Not Me Productions.
What Comedians Should We Interview Next At INSIDE Monthly?
Miss SteFunny Denise aka "SteFunny". The Queen Of Comedy. She's amazing. She's a blessing in my life. She's an angel. She keeps me grounded. She's hilarious and y'all will love her. I know she doesn't like to be called the Queen of Comedy but she really is. And don't forget about Emmanual "E Man" Khamala. That boy is the prince. But I'm the King. Don't forget it…Ha Ha.